The New Munch Museum, Oslo's latest cultural development, is scheduled to open after years of meticulous planning and construction. It proudly sits on the newly developed waterfront creating a wonderful monument to Norway's most famous painter and safeguarding his works for generations to come.
Edvard Munch's name is synonymous with Norwegian art and the museum has housed his bequest collection since 1963. It was originally opened to commemorate what would have been the artist's 100th Birthday. The museum after much debate now has an ambitious new home. The opening this year marks the first of two of Norway's leading museums to be reinvigorated in the exciting new cultural area in the heart of Oslo.
The building itself will be one of the largest spaces to be dedicated to a single artist in the world. Much like its namesake it looks to the future cultivating new building techniques to create a modern gallery. The building makes the most of recycled materials in order to confide with Oslo's project to reduce carbon emissions. This carefully designed process makes its carbon footprint 50% less than equivalent buildings. Given the current climate situation Museums must move towards a more sustainable future. The new Munch Museum gives us an insight into how museums will need to adapt to become more environmentally aware to sustain the future of these famous institutions.
In 2004, the infamous theft of two of Munch's most famous artworks The Scream (1910) and Madonna (1894) sent shockwaves through the art world. The robbery caused galleries and museums to rethink their approach to security and art protection without infringing the viewer's experience. The new museum is set to combine state of the art technology and an environmentally aware design to create a futuristic museum capable of safe guarding some 28,000 works by the great master.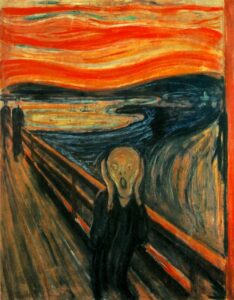 The challenge faced by many public institutions is to harmoniously integrate cutting edge technology with the fabric of the building. RFID art security creates an invisible protective bubble around the artwork.  The system is active 24/7 placing all works on permanent display and in storage under constant surveillance.
Find out how museums can be better equipped to protect themselves as custodians of art for the future .
https://fortecho.com/technology/